WEIDPLAS ColorFuse Process Technology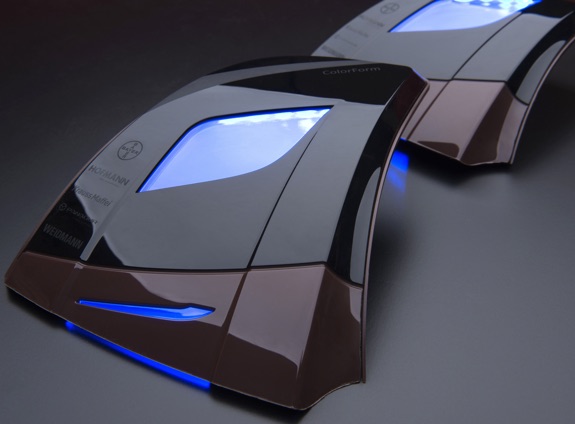 Trade fair K2013 Demonstrator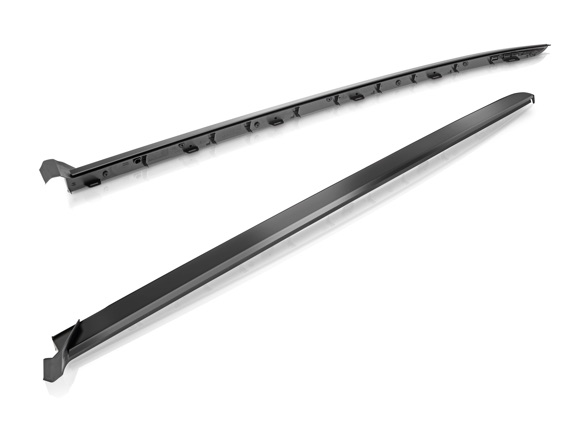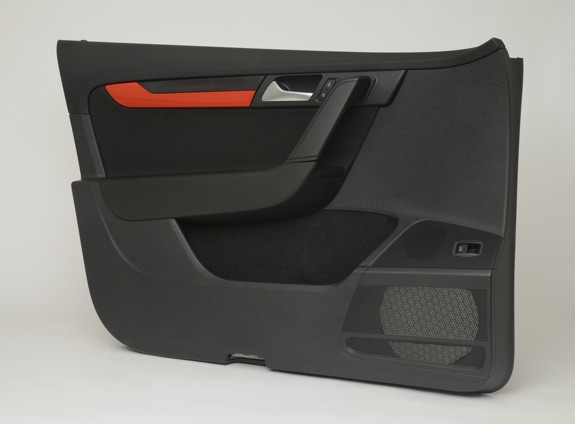 Decorative elements of a door trim
ColorFuse
This direct surface coating process combines injection molding and painting into a single process step without the need for post-mold processing. WEIDPLAS, the experienced multi-component injection molding specialist, has applied this technology and taken it even further.  The application of this technology for series production is now ready for global introduction.
Why ColorFuse?
Compared to conventional painting, ColorFuse offers:
High-gloss, scratch resistant surfaces
Novel options for design flexibility including elegant surface aesthetics and logo depiction
Quick production with a wide range of variations
An integrated technology into existing manufacturing process, with no investment in complex painting lines and further minimizes logistics costs
What is the advantage compared to other process or materials?
Several colors, varying surface textures, clear coat surfaces  with depth effects, partial textures, designer lines, lettering and much more. And the time needed to change colors is much shorter compared to conventional processes. Unlike genuine metal surfaces, ColorFuse metal effect surfaces are largely scratch resistant. Furthermore, the paint is also resistant against climatic and environmental effects such as UV radiation.
How does the process work?
Independent of the carrier material, a molded part will be flow-coated with a polyurea reactive lacquer whilst still in the multi-component tool, to then leave the mold in the desired color with no extension to the injection molding cycle.
WEIDPLAS Design and Engineering Expertise
The flow-coating process in the tool cavity imposes some geometric constraints on the design and development of the component. This is where the New: TVC (Testing & Validation Center) can offer an ideal platform for pre-trials or development projects.
Environmental Sustainability
This aspect is important to us. Firstly, the applied reactive paint is solvent-free. And painting in the injection molding tool will produce no over-spray with its excess consumption and laborious disposal. Energy consumption is also clearly reduced compared to conventional painting facilities.
System-integrative
WEIDPLAS is considered the system integrator in terms of this technology. In the course of a number of pre-development projects with our partners, we have become thoroughly familiar with the technology and assumed a lead coordinating role in the group. Not only are we monitoring further development of the technology, but we also control feasibility, framework conditions and system specifications.
Projects to date:
Trade fair K2013 Demonstrator
Column trim
Decorative elements of a door trim
ColorFuse is a registered trademark of KraussMaffei Technologies GmbH